We recommend that you drink a small amount daily.
Because the consumed polyphenol in your body gradually loses its strength, a daily consumption of 50 - 100 ml is recommended. In northern Tohoku where Kuji is the main local town, people tend to drink 50 ml of "Yama-no-Kibudo" twice a day in the morning and in the evening. Thus a bottle of 100 ml is more popular than 600 ml. "Yama-no-Kibudo" is not a medicine and you can enjoy it at a proper time interval and an amount of your choice.
- For your health and beauty, for your active daily life
- In the morning for a fresh start
- When you feel tired or not well
- During a break at home or work
- After a bath or shower
It can be consumed in a variety of ways.
<Served diluted>
"Yama-no-Kibudo" can be mixed with other beverages without losing its full flavor. You can enjoy the collaboration with different tastes.
- With milk for children
- With soda in summer
- With alcoholic drinks, such as wine, beer, sake (Japanese rice wine) or shochu (Japanese distilled spirits)
<Served hot or warm>
Heated "Yama-no-Kibudo" to warm yourself in winter. It has enhanced flavor and rich taste. Cinnamon, honey, or fruits can be added to heated juice. Heat does not destroy the effect of polyphenol.
<With your meals as non-alcoholic beverage>
For your meals "Yama-no-Kibudo" offers a delicious drink, well-balanced between sweetness and acidity, without interfering the taste of your meal. It is an ideal non-alcoholic wine.
In the process of producing "Kibudo Jam" we shorten a normally required time of boiling down for jam making so that its refreshing acidity with a low sugar content (40 – 43 degrees) can be retained. As a result, "Kibudo Jam" comes in thickness almost like that of softened sauce with rich and punchy taste. This thickness allows us to mix it easily with a variety of other foods.
Caution: "Kibudo Jam" could become very soft, especially during summer, and it would possibly spatter or drip when you open the lid or spoon it out from the container. The jam must be handled with care.
- Spread on a toast or bread
- Add to yogurt
- On muesli or granola
- With cheesecake baked or unbaked
- On pancakes
- Add to smoothie
- On gelatin desserts
About Crimson glory vine polyphenol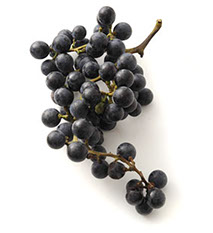 By this time you have heard the word "polyphenol" many times. But, did you know that polyphenol is a natural substance that vegetation produces to protect itself from enemies such as birds, insects and ultraviolet rays? Among many plants which generate polyphenol (teas, cacaos, etc.) grape vines are known to have a large amount of polyphenol. The skin of a grape protects the seeds inside by absorbing ultraviolet rays. The thicker its skin is and the deeper its color is, a given grape contains a larger amount of polyphenol.
While polyphenol comes in thousands of types and each has different effects, its most prominent characteristic is the effect of antioxidant. Active oxygen which is naturally produced in our body during the metabolism protects body itself. On the other hand, an excess amount of active oxygen can accelerate the aging process. Polyphenol is said to work as one of the most effective antioxidants that combat against the undesirable effects of active oxygen.
Individual berries of Crimson glory vines have thick deeply colored skins and big seeds. Crimson glory vines produce antioxidant-rich grapes containing 8 times as much polyphenol as other grapes. We hope Crimson glory vine polyphenol will give you much antioxidant to make your daily life come alive.