The company is moving forward as a pioneer.
History of Sakohonten is a way of exploring potential benefits of Crimson glory vine.
70 years with Crimson glory vine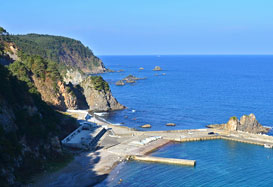 Sakohonten Co., Ltd. specializes in producing food and beverage with Crimson glory vine as the main ingredient. We have been marketing the very best of what Crimson glory vine can offer since the time the company was founded in 1937 in the city of Kuji, Iwate prefecture. Besides "Yama-no-Kibudo," Japan's first 100% pure non-additive Crimson glory vine juice, we launched a cosmetics business in 2016 by introducing "Yama-no-Kibudo Crystal Sap eco," the world's first cosmetic raw material made from Crimson glory vine sap. Kuji is located in the northernmost part of Iwate facing the vast Pacific Ocean on the east and the Kitakami Plateau on the west. Kuji, where our company runs business, abounds in natural resources such as the world famous Kuji Amber. Crimson glory vine represents one of these famous regional products. Kuji is the largest producer of Crimson glory vine in Japan. People in the Kuji area have been making alcoholic beverages from Crimson glory vine and drinking them as nutritious tonic for the past 700 years. Kokichi Sasaki, the founder of the company was inspired and motivated by this background to build the foundation of today's Sakohonten.
Stepping into the unknown as a pioneer
Kokichi Sasaki determined to make Crimson glory vine juice widely available to people. He thought up an independent method to get the perfect taste of juice and launched the sales of "Yama-no-Kibudo" in 1971. He, foreseeing the shortage of Crimson glory vines, opened the company's vineyard in the same year as well. In reality, however, he had to take a long tough road to bring the business up and running. Kokichi read a large number of guidebooks to learn proper knowledge on grape cultivation only to find out that no information on Crimson glory vine was available. Besides, no one in the company had agricultural experiences. As a result, he spent 10 years of trial and error in the dark before he finally succeeded in managing a steady operation of the vineyard. In addition, there was an issue relating to an economy in those days, when Japan was enjoying a rapidly growing economic boom. Consumers could buy a beverage for 100 yen while the price of "Yama-no-Kibudo" was 300 yen. The company staff continually worked diligently to appeal the value of "Yama-no-Kibudo." Around 1986 thanks to the arrival of a strong trend among people to consume healthy foods, the company started receiving orders one after another from all over Japan. All the efforts the company had made were finally rewarded. It was 15 years after our first introduction of "Yama-no-Kibudo" on the market.
​

Exploring potential benefits of Crimson glory vine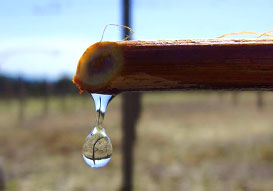 The company managed to add Crimson glory vine related products to its merchandize line-up. Then, in 2005, we launched the sales of "Kanjuku Yama-no-Kibudo," a juice made from fully ripe Crimson glory vine harvested late. The taste of "Kanjuku Yama-no-Kibudo" is rich and smooth with increased natural sweetness which came from late harvesting. We developed the product in responding to customers' requests in Kansai and Kyushu areas where many people are not familiar with Crimson glory vine. Since we have been accustomed with the refreshing taste of Crimson glory vine, we have never imagined that we could extract another flavor from the vine. This experience taught us the importance of being responsive to customers' voices and trying a new product to meet their demands. In 2016 we entered the cosmetics business by introducing "Yama-no-Kibudo Crystal Sap eco." This product is the world's first natural cosmetic ingredient produced with sap from chemical-free, organically grown Crimson glory vine in the company's vineyard. The mission of Sakohonten, as a health and beauty creating company, is to keep exploring and marketing potential benefits of Crimson glory vine.